Polished Concrete Maintenance in Denver: Our Favorite Products
Triad Service Solutions, Inc. is proud to partner with Pioneer Eclipse, a leader in polished concrete maintenance in Denver. Our inventory includes their chemicals, machines and tooling lines. When it comes to our own floor care and concrete polishing jobs, we opt to use Pioneer Eclipse whenever possible because of their high-quality results, innovative technologies and competitive prices.
Pioneer Eclipse's integrated system of equipment, chemicals and processes are designed to easily and economically perform otherwise challenging restorative maintenance to make your floors shine. These products and processes are based on more than 40 years of floor care expertise and include formulas for every step of the floor restoration and maintenance processes. We can repair your floor to remove surface scratches, stains and distinct wear patterns, then polish your concrete floor to achieve your desired sheen. Next, we can protect your polished floors and maintain them to keep them looking their best.
Here are some of our favorite products for polished concrete maintenance:
Reclaim Hard Floor Cleaner & Maintainer
Uniquely formulated, Reclaim Hard Floor Cleaner & Maintainer seals and protects as it cleans. Specifically designed to resist stains, Reclaim's pH level provides improved cleaning performance of oil-based continents. Reclaim is safe for daily use.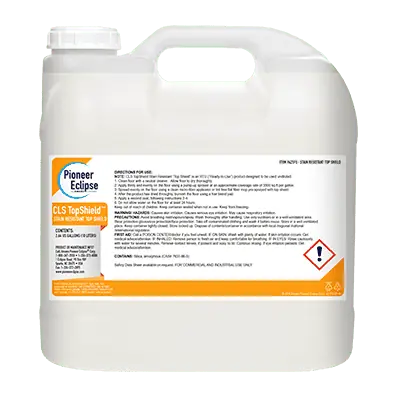 CLS TopShield
We love this high performance micro-film foaming surface treatment that hardens and protects concrete. CLS TopShield creates a breathable, ultra-hard, water repellent and dust-repelling surface. This densifying treatment may also be used on quarry tile, marble and terrazzo floors.
HardCore Densifying Treatment
HardCore is a Lithium Silica and Potassium Siliconate formulation that allows for deep penetration in the floor surface. The chemical reaction between HardCore and the floor creates hard, crystalline structures within the floor. It fills voids, adds structure, and reduces porosity of floors. HardCore increases durability of floors, while prolonging shine and stain resistance.
To learn more about these products for polished concrete maintenance in Denver and how we can help you with your floor care needs, contact us today! You can also check out results from our previous concrete maintenance work here. You'll see photos from a project we recently completed at a grocery store, where we removed the existing carpeting, LVT and VCT flooring. We then removed the epoxy from the concrete floor to expose the aggregate and polished the floors to an immaculate shine. The results speak for themselves, and our state-of-the-art equipment and tooling allowed us to take the finish down to a visible aggregate that's far beyond just a "salt and pepper" finish.
About Pioneer Eclipse
Founded in 1978, Pioneer Eclipse introduced propane burnisher technology and floor finishes to the jan-san industry. The company quickly became one of the fastest-growing privately-held companies in the country thanks to their products that reduced labor costs in the floor care industry.
In 1990, Pioneer Eclipse became a subsidiary of Amano and continues to enjoy being part of the large Japanese conglomerate. Amano Pioneer Eclipse's 100,000-square foot facility is located in Sparta, North Carolina. There, they manufacture the best polished concrete maintenance products and equipment for the jan-san industry.