Coronavirus + Flu Season: Battling both with cleaning supplies from Triad
The coronavirus pandemic has forced facility managers everywhere to take a hard look at their practices and how they can be improved. Although cases continue to go up around the country, many people are experiencing "pandemic fatigue" after months of major life changes, and some are starting to slack on things like social distancing, cleaning and mask-wearing.
Now is not the time to take a step back! Flu season will soon be in full-swing, and battling both the flu and the coronavirus will test facility managers and contract cleaners in new ways. To get through this challenging time, we have a stocked inventory of everything you need to continue making your facility safer, healthier and cleaner.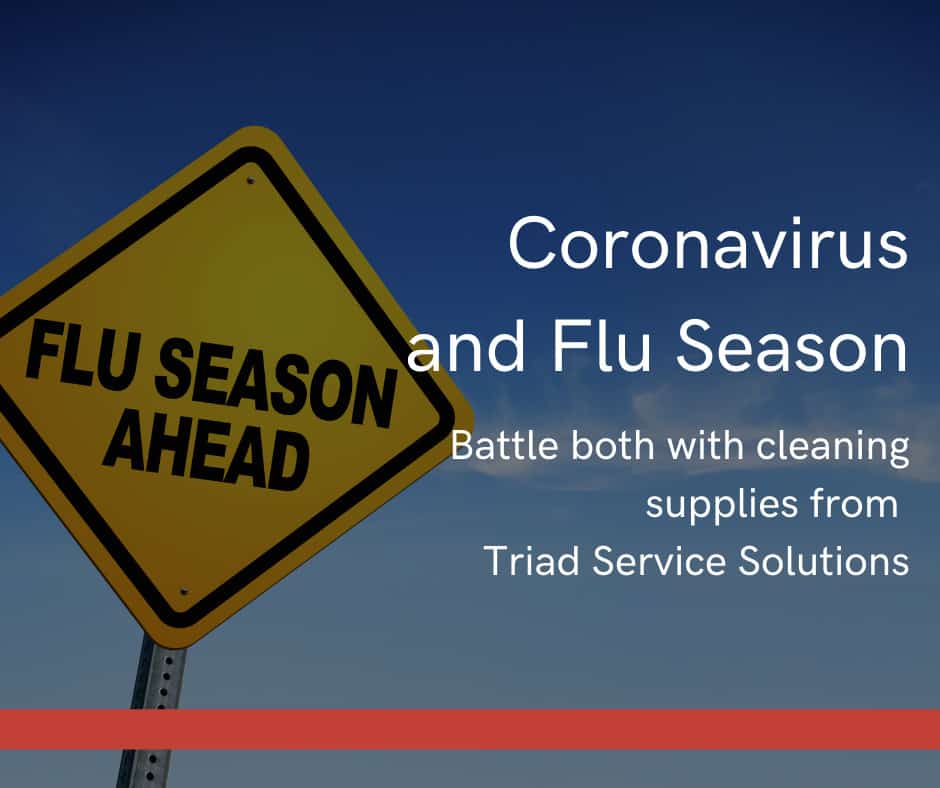 Disinfectants for Coronavirus and Flu
Disinfectants are one of the most powerful tools we have to fight flu and coronavirus. We carry an array of products that are effective against both and approved by the EPA for viral emerging pathogens.
Remember to always clean before you disinfect to remove dirt and grime from your target surface. Read your disinfectant's label carefully and take note of the contact time. Follow all instructions to provide maximum effectiveness and germ-killing power!
Make disinfecting high-touch areas in your space a regular part of your day. Focus on objects and areas like break rooms, desktops, railings, doorknobs, restrooms and faucets. Any object that is touched by more than one person should be frequently disinfected.
We provide many types of disinfectant solutions in large volumes, including 5-gallon buckets. Investing in these products is a great way to save money and ensure you always have solution on hand. To make cleaning more safe and convenient, add spray bottles to your order so you can easily divide large volumes of disinfectant into manageable quantities. Spray bottles are also a useful tool for properly diluting solution if needed.
Electrostatic Sprayers Provide Thorough Disinfection
For the most thorough, effective disinfection, ask us about our electrostatic sprayers! These machines deep clean by breaking down disinfectant into micron droplets and charging them as they leave the sprayer. This enables the droplets to reach surfaces and objects more easily, ensuring the most thorough coverage of disinfectant available today.
To learn more about our COVID disinfection cleaning supplies, contact the team at Triad today!